Individual & Group Seminars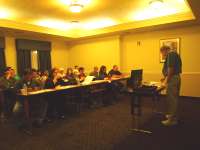 All of our seminars are provided for individuals, groups or organizations, and are arranged to provide instructions in both classroom and field. We provide the written information and outline to aid you in training your dog in the discipline being presented. Owners/handlers are responsible for the individual equipment required to complete their training.
---
Each individual and their dog will be evaluated during the seminar. Suggestions are presented in an effort to aid you in training your dog and becoming a more informed handler. Each individual and dog will be presented with a certificate of training indicating their attendance and the number of credited hours accrued during the course. After a seminar presentation, we make ourselves available to you for questions concerning any problems you may encounter.
Weekend Courses begin on Friday with introductions and classroom instructions. Saturday is spent on field exercises. Saturday evening is a gathering of everyone for supper and discussions. Sunday morning is spent on field work, with certifications offered in the afternoon. Most weekend courses will accrue 20 hours of credit.
Full Week Courses may begin on any day convenient for the group and extends six days. Full Week courses will accrue 40 hours of credit.
Day 1 = Introductions and classroom instructions.
Day 2 = Field work with discussions afterward.
Day 3 = Classroom instructions with Field work in the afternoon.
Day 4 = Field work with discussions afterward.
Day 5 = Field work with discussions afterward.
Day 6 = Individual Certifications offered.
At ABCANTRA, we offer seminars and testing for the following types of training:
Obedience
CGC
STAR Puppy
Rally Obedience
Conformation
Tracking - Human, Animal, Blood Trails, and Competition Tracking
Scent Work - All varieties including Narcotics, Arson, and Bomb.
Cadaver (Land) - Deceased human recovery
Cadaver (Water) - Drowned human recovery
Building - Searching techniques and safety
Urban - Tracking humans in an urban environment
Disaster - Locating humans in collapsed and burned buildings.
Arrangements must be made for all seminars. Seminars are provided either at our facility, or at a location chosen by the group requesting the service. All fees and expenses are pre-paid prior to arrival.
For more information on training or scheduling, please utilize the Contact Form on this website or call 985 892 6773 between the hours of 8 am and 9 pm CST. If we miss your call, leave us a message and we will respond within 24 hours. The facility is closed on Tuesday, Sunday, and Holidays.