About Abney Canine Training
Why Choose ABCANTRA?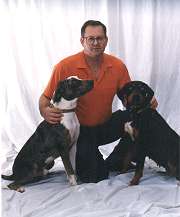 Abney Canine Training's (ABCANTRA) programs are designed to be a pleasant learning experience for both the dog and the owner/handler. At ABCANTRA we strive to guide your dog into achieving its highest potential.
Whether you bring your dog to us for Basic Obedience to learn its manners or for tracking animals, you can be assured that our long-standing methods will teach your dog, and you, to be successful with every challenge. These methods were introduced by our founder, Don Abney, and are executed today by his apprentice, Claudia Ott. Questions are always welcomed!
---
Claudia started training dogs at a very early age. She has been around Catahoulas, as well as all other breeds, all her life and understands the psyche' of the dog. She was showing dogs at a young age, as well as judging conformation for NALC shows, and knows the dog standards. After she started working with Don at 12 years of age she became certified in obedience and tracking training.
This is why Don had total confidence in Claudia's abilities to take over the training while he underwent chemo and laser treatments. He saw that she was mature, self-confident and knowledgeable far beyond her 20 years.
Basic Obedience (manners) entails lessons for controlled on lead walk, heel, turns, sit, stay, come and down. There are also corrections for miscellaneous bad behaviors, such as biting, mouthing, licking and jumping.
no dog is too old to learn its manners!
Our other Canine Classes are for tracking and will develop your working dog's abilities to focus on its intended target. Your dog is boarded for 4 weeks, and our trainer Claudia, is fully committed to doing that. Upon pickup she explains in detail the equipment we furnish while working with the client to understand his newly trained dog. This includes the client's hands-on training of commands and hand signals, and also working the dog. Working dogs know how to track, and Claudia teaches them to focus.
If you need to learn more about tracking training, there is the "Canine Tracking Guide" by Don Abney, as well as our Blood Dog Training Website.
---
Founder Don Abney - Certified Master Canine Trainer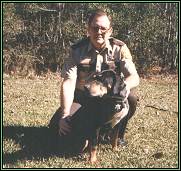 Don Abney has owned and handled dogs for most of his life. His early training was taught by his father, who presented him with his first dog when he was eight years old. That dog, Skippy, was a wild dog that had been captured during a rabbit hunting expedition. Don was aided in teaching this dog to sit, lie down, shake hands, beg, wait while food was being dispensed, and ride in a wagon or on a three wheeled bike with him. From there, dog training appeared nothing more than a game.
Years later it was realized that there was a talent to handling dogs, and Don began instructing professionally. Don is in high demand for his talent as a speaker and instructor at seminars covering topics such as: Obedience Training, Tracker Training, Search and Rescue Dogs, Scent Work (all facets), and Behavior Problems. He has lectured on the subjects of Canine Training, Canine Tracking, the Louisiana Catahoula Leopard Dog, How to Greet a Strange dog, and the Hug-A-Tree and Survive program, and has provided numerous demonstrations.
---
A partial listing of Don's many accomplishments:
Master Trainer in Obedience, Tracking, Hunting, Search & Rescue, and Detector Dogs since 1980.
Court Certified Expert in the field of Canine Training & Tracking through the Criminal District Courts of New Orleans, Louisiana, December 10, 1998, by Judge Julian Parker.
UKC Conformation & Jr. Showmanship Judge.
AKC Canine Good Citizen Evaluator.
Co-author of bill signed into the Louisiana legislature presenting CGC as a dog defensive law.
Member of The Association of Pet Dog Trainers APDT
Licensed by the Drug Enforcement Agency as a Researcher in the Field of Canine Training - 1992.
Studies and Training in Dog Psychology, Animal Behavior, Breeding & Genetics, and Canine Nutrition and Health Care
Trained and experienced in handling Dangerous, Vicious, and Nuisance Animals since 1994, with a commendation from St. Tammany Parish Sheriff's Office.
Developer and Presenter of the Lost and Safe Program.
Founding member and trainer of Louisiana Search and Rescue Dogs, Inc. 1989 - 1996.
Member of the National Association of Search and Rescue 1989 - 2000
Retired Lieutenant with St. Tammany Parish Sheriff's Office, Search and Rescue Division.
Owner, Handler, and Trainer of Ladyhawke, the First registered Louisiana Catahoula certified in Search and Rescue and Narcotic Detection to be commissioned by Law Enforcement, and receive the Service Champion Award for outstanding work in Community Service. Presented by the National Association of Louisiana Catahoulas.(N.A.L.C.)
Recipient of the Excellence in Training award presented by Sigma Chemical Corporation.
Author of The Louisiana Catahoula Leopard Dog. A book on the history, breeding, and care of Louisiana Catahoulas.(Out Of Print)
Author of The Abney Method to Owning a Dog. A book on care and maintenance, behaviors, first aid, choosing and training a dog.
Author of Canine Tracking Guide. A book on choosing and training a dog for human, animal, competition and blood tracking. Includes care and maintenance, and first aid.
Author of The Complete Louisiana Catahoula Leopard Dog. A book on the updated history, breeding, and care of Louisiana Catahoulas.
Certified breeder of registered Louisiana Catahoula Leopard Dogs since 1985. (N.A.L.C.)
Past President of the American Catahoula Association.
Vice President of the Great Southern Kennel Club. A United Kennel Club (UKC) Organization.2003-2007
President of the Great Southern Kennel Club. A United Kennel Club (UKC) Organization.2007-2008
President of the Catahoula Owners, Breeders, and Research Association (COBRA). 2004-2016