Basic Dog Obedience Training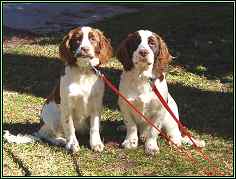 Basic Obedience training has the tendency to curb many unwanted behaviors. Although this statement may appear overstated, it is a fact. There are no magic words or special tricks used to make your dog accept you as a leader. You simply have to teach him to respect you, and that you are in control.
---
Teaching your dog the basics of obedience places you in a leadership role. Once you have established yourself as a leader, your dog will make every effort to please you. You may be questioning how this is possible. The answer is as simple as the training itself. Our training methods utilize the same simple functions that were demonstrated by the dam within her litter. It's a simple form of training that hones the dog's instincts. Once you have achieved this simple function, you can teach your dog limitless commands.
In our Basic Obedience training course, your dog will learn a controlled walk, heel, sit, down, stay, come, and turn. You will learn to be a leader and gain the respect of your dog. All lessons are taught On-Lead. All of the equipment required to attain the prescribed training will be provided, and is yours to keep.
Many of the veterinarians, grooming, and boarding facilities in our area are aware of our services and expertise, and frequently recommend ABCANTRA. We provide the training and insight necessary to develop your dog into an obedient and happy pet. Just as it is with humans, once they know the rules, life becomes easier.
Off-Lead Training is available, but before you spend your money on this program, you have to ask yourself these questions. Why will my dog be off his lead? Will I be competing with my dog? Is my dog going to be used as a "working dog?" If you answered no to those questions, your dog does not need off-lead training. If you simply want him to come to you when called, he will learn that discipline with the training provided. Everything takes time, and with our training method, your dog will learn to come when called. If you attend training elsewhere and "come when called" is not taught in the basic course, you are wasting your time and money.
In Louisiana, as in most states, there is a Leash Law. That law states that your dog may not be off lead unless he is: properly controlled on your property, or, is in the act of performing a service. "Service" is defined as hunting, retrieving, assisting an individual incapable of performing certain functions, or, providing a service to the community. The only exception to the leash law is "Dog Parks," which are enclosed areas adopted by a variety of organizations, and approved by the governing bodies under state law.
We offer BOARDED training only:
Attended training. Beginning October 1, 2017 is no longer offered.
Boarded training at the ABCANTRA facility is designed for those owners who lack the time to dedicate to training and wish to have us board and train their dog. We provide corrections on certain behaviors while in our care. The owner will be made aware of the procedures used and must maintain them when the dog returns to their home.
The majority of the dogs boarded complete their training within four (4) weeks, and you are presented with the equipment required for training. While at the facility, each dog will be released from his run and allowed to exercise on his own, twice each day, rain or shine. This exercise time is in addition to his training period.
All kennel runs are outdoors and are partially covered to provide shade and sunlight. Each house is arranged to provide a maximum area of use for the dog's movements. Kennels are routinely cleaned twice daily. Adult dogs are fed once daily, and pups under six (6) months are fed twice daily. ABCANTRA provides the exercise, food, maintenance, and training required for course completion.
Many owners are concerned that by utilizing boarded training their dog will forget who they are. This has never happened. Your dog will not forget you, but you are welcomed to visit your dog once each week while he is training.
For health purposes, a veterinary shot record, including Bordetella, must be presented prior to entering the kennel facility. All dogs must wear a nylon or leather collar while at our facility. For safety purposes, no chain type collars may be worn.
All courses are pre-paid prior to the start of the course. For more information on training or scheduling, please utilize our Contact Form or call 985 892 6773 between the hours of 8 am and 9 pm CST. If we miss your call, leave us a message and we will respond within 24 hours. The facility is closed on Tuesday, Sunday, and Holidays.