Varied Competition Training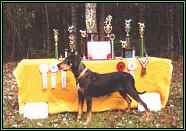 Have you ever viewed a televised dog show competition and observed how beautifully those dogs performed in the ring? We provide the training required to have your dog perform in the same manner.
---
Competition training at ABCANTRA is a simple process of teaching the dog and owner/handler to work together as a team. Whether you're competing in obedience, conformation, tracking, weight pull, dock diving, or any other form of competition, we can provide the tools you will need to succeed.
In Conformation competition, certain training techniques are utilized to have the dog stand in a motionless upright position and to allow the touching of his entire body by a stranger. Dogs are taught to abide the displaying of their teeth without dispute. The proper speed of travel is determined in order to have each dog display his best form of motion. Dogs are taught to hold their heads upright when posing and during movement. In addition, they are taught to perform the down and back exercise with precision and to pose in a natural stance, without manual manipulation, upon their return to the judge's location. All of this must be performed while displaying a happy attitude. All equipment required for training is provided and yours to keep upon completion.
Obedience competition requires the dog to perform certain tasks while in the ring. These tasks are determined by the Club or Registry show in which they are participating. Most of these include heeling at various speeds, left and right turns and the figure 8 exercise without interfering with the handler, a return to front on recall (come), sit-stay, and down-stay. Some organizations require the dog to traverse a jump on recall, while others expect a recall on the flat, and a return to heel position. The sit-stay and down-stay are generally timed events, and the amount of time is dependent on the organizational rules. The United Kennel Club requires an "honor down," where the dog is placed in a down on the opposite side of the ring, without the handler's presence, while another dog performs its healing exercise. We are well versed in the rules of the American Kennel Club and the United Kennel Club. Any other rules pertaining to obedience are mostly modifications of these rules, and we can provide the training if you can provide the established rules. All equipment required for training is provided and with the exception of jumps is yours to keep upon completion.
Tracking and Blood Trails competitions are all very similar in their content. Most organizations have specific levels of competence which must be completed in chronological order. The tracking training provided at ABCANTRA will enable you to advance rapidly through any course design. Our course is designed to aid your dog in understanding the lay of the scent trail and disregard the surface on which it is laid. Whether you are a beginner or advanced tracker, we can provide the training that will aid you and your dog in the completion of any tracking skill requirement. All equipment required for training is provided and yours to keep upon completion.
For the Hunter seeking a dog to track wounded animals, we provide this service as well. Please visit my website Blood Dog Training
If you are inclined to provide your own training, we also offer books on training for Obedience and Tracking. These are available on our website at BOOKS by Don Abney.
Agility, Flyball, Dock Diving, and all other activities will be instructed at the owner/handler's location within reasonable traveling distance. Owners are required to provide the equipment needed to pursue the completion of the course desired.
Time is taken to ensure that you and your dog perform in a manner that is eye catching, and will gain the attention of judges and spectators alike. All courses are programmed to run approximately 4-6 weeks, depending on the dog's cooperation and willingness.
Regardless of the type of competition in which you wish to be involved, all classes are individually assigned to ensure that you get the full hour assigned to your dog. Groups and Clubs may be scheduled upon request.
Boarded training at our facility is available upon request. Prior arrangements must be made to ensure availability. Proof of vaccinations and Bordetella must be presented prior to entering the kennel.
All courses are pre-paid prior to the start of the course. For more information on training or scheduling, please utilize our Contact Form or call 985 892 6773 between the hours of 8 am and 9 pm CST. If we miss your call, leave us a message and we will respond within 24 hours. The facility is closed on Tuesday, Sunday, and Holidays.