Therapy Dog Training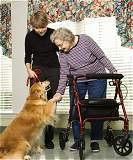 Therapy Dogs, not to be confused with Service Dogs, are used in conjunction with their owners in visiting hospitals, nursing homes, retirement homes, schools, and other facilities such as hospice and disaster aid facilities.
---
The trained Therapy Dog must be affectionate toward everyone it comes into contact with, and it must ignore and tolerate the use of wheelchairs, crutches, walkers, canes, irregular walking, jerky movements, as well as unusual or loud noises.
There are three classifications of Therapy Dog. They are:
Animal Assisted These are dogs used by physical and occupational professionals and aid in regaining motion in limbs, motor controls, and are usually found in rehabilitation centers.
Facility Therapy These dogs primarily work in nursing homes and are often trained to help keep patients with Alzheimer's disease or other mental illness, and are handled by staff members within that particular facility.
Therapeutic Visitation This is the most common of the three types of Therapy Dogs. Individuals bring their own, trained dog with them when they visit nursing homes, hospitals, rehabilitation center, and/or detention facilities. In addition to being a great comfort to those who cannot have their own dog with them, Therapy Dogs have proven to be very therapeutic. It has been recorded that just the presence of these dogs can lower blood pressure, relieve stress, and inspire changes in mood swings. They have been helpful to those suffering from emotional disorders, and in calming individuals with speech problems.
If you would like to have your dog trained to perform the function of a Therapy Dog, we can help. Therapy Dogs must pass a series of tests similar to that of the Canine Good Citizen. Don Abney is a certified CGC Evaluator who can help get you started in training your Therapy Dog.
Once trained the individual and their dog must pass a required performance test by a licensed facility to achieve the Therapy Dog Title.